The Radio Society was established in 2006, aiming to raise radio broadcasters and staff for Radio ODTÜ NCS  (Radio ODTÜ Northern Cyprus Studios), which was also established during the same period. Since then, radio broadcasting courses have been offered by the Radio Society. Broadcast trainers were provided by Radio ODTÜ Ankara. Radio ODTÜ NCS started its test broadcast in 2007, in a tiny little studio with one computer, and made its voice heard in Northern Cyprus. In 2008, we took action to create a full-fledged studio. Radio ODTÜ NCS, which started live broadcasting in 2009 and webcasting in 2010, still exists today. It has the largest music archive in Turkey and the TRNC.
In addition to its own activites, the Radio Society undertakes the press sponsorship of major festivals and events organized at METU Northern Cyprus Campus and in the TRNC. So far, it has been involved in many events that aim to contribute to the cultural and social life at the Campus, such as the METU NCC Spring Festival, Kalkanlı Monumental Olive Trees Run, Çakısdes Festival, Horror Night, annual basketball and football tournaments and other sports activities held on the Campus.
Interview with the head of the Radio Society –Atakan Yegen –Electrical and Electronics Engineering Student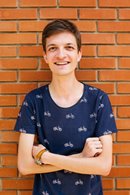 • Radio ODTÜ NCS achieved the same level of success as Radio ODTÜ Ankara. What are the reasons lying behind this success?
What lies behind the success of Radio ODTÜ NCS is its careful choice of songs and broadcasters. We have the largest music archive in Turkey, which is another factor that led to the success of the Radio.
• Have any of the student broadcasters changed their career plans to pursue a career in radio broadcasting?
Of course they have! Two members of the METU NCC Radio Society broadcast one of the most popular radio programmes on a private radio in the TRNC.
• Radio ODTÜ Ankara plays mainly Rock music. Which genre of music does your radio station favor? Which genre of music is preferred by the average radio listeners?
We also play mainly Rock music; Rock songs of the 70s, 80s and 90s in particular. Rock is the most preferred genre, anyway.
• Can you name the top songs that have been played on Radio ODTÜ NCS recently?
The Moody Blues - Nights In White Satin ve AC/DC - Back In Black are the most popular songs preferred by the Radio ODTÜ NCS listeners.
President: Atakan Yegen
e-mail: atakan.yegen

metu.edu.tr