Cricket is an internationally recognized sport, originated in the late 16th century, in the south east of England. It became England's national sport in the 18th century and has developed globally in the 19th and 20th centuries. The sport is commonly known as the gentlemen's game. Currently 48 nations are playing the game worldwide. David Beckham once said that if he wouldn't have been a footballer, he would have definitely been a cricketer.
Cricket is the very popular game in South Asia and as we have a lot of students at METU NCC from Pakistan, it is a growing sport on the Campus. METU NCC has a cricket team, and recently the METU Cricket Society has also been registered. Muhammad Muzammil Bhaiyat is the President and captain controlling all the affairs along with his board members. Practice sessions are also held for the team at the weekends in the football field. The team won the tournament held last year at the Near East University Campus and this semester played in an all Cyprus tournament held in Girne. Most of the players in the team have played for a club in Pakistan. There is also a Sri Lankan student playing in the team.
The Cricket Society has plans to spread knowledge about the game among Turkish and Arab students, and make it one of the recognized sports at the University.
Interview with the head of the Radio Society –Muhammad Muzammil Bhaiyat – Petroleum and Natural Gas Engineering Student: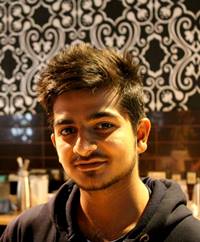 Tell us about student interest towards the Cricket Team.
Among the Pakistani students, there is a lot of interest in cricket. Other than that, some other students also show some interest whenever we play at the METU Square.
How do you promote the team within the school? 
As the Cricket Society was just registered in the middle of this semester, we haven't done any work to promote the sport yet. Next semester we will have a board meeting and discuss this issue, and decide the ways to promote the sport.
Do you have any members who have never played cricket before? 
We currently don't have any members who have never played cricket before, but I know some students who have an interest in cricket and would like to become a member of the Society.
For someone who has never played cricket before, are the game rules complicated? 
Yes, the game rules are complicated for someone who has never played before, but it all depends on the interest; once someone understands the principles behind these rules, they become very simple.
Does cricket attract the attention of female students? If yes, do you plan on making a mixed team?  
Some female students show interest in the game when we play at the METU Square, but currently we don't have anyone playing with us. Of course we would like to coach some female students as well and make a mixed team.
President: Muhammad Muzammil Bhaiyat
e-posta: e210482

metu.edu.tr