Established in November 2015, the METU Northern Cyprus Campus Society of Mechanical Engineering (SME) contacted ASME* (American Society of Mechanical Engineers) at the beginning of 2016 to join ASME's community of engineers. The Society was approved by ASME as the "METU Northern Cyprus Campus Student Branch of ASME". The Society of Mechanical Engineering provides an environment for mechanical engineering students that encourages creativity and emphasizes exchange of ideas, as well as providing them with opportunities to put their ideas into practice through a variety of projects. It aims to introduce students to the key concepts and basic theories in the field of engineering and analysis and design practices by organizing seminars and workshops, which will also allow them to widen their social circles and develop qualities and skills they need to become an effective engineer.
Since 2015, the Society has organized various academic seminars and workshops, including the training "Matlab", presented by Assoc. Prof. Dr. Eray Uzgören, and the workshop "Montage Modelling Using Autodesk Inventor", presented by Assoc. Prof. Dr. Murat Sönmez. Within the scope of these activities, a range of seminars, targeted at engineering students interested in the automotive industry, took place at the Campus as well. These seminars were given by Dr. Serhat Erpolat, Innovation Manager at Ford Otosan. Beside these seminars, the project "Drift Trike" which was designed by our members has entered the final stages of its production process.
*METU Northern Cyprus Campus Student Branch of ASME:
Founded in 1880 as the American Society of Mechanical Engineers, ASME is a professional organization committed to promoting the science and practice of multidisciplinary engineering throughout the world. It develops codes and standards which have global recognition in the field of mechanical engineering. ASME is a leading global publisher of scientific and technical content. In collaboration with experts, it organizes a wide range of courses, technical conferences and educational programs every year.
The METU Northern Cyprus Campus Society of Mechanical Engineering (SME) was approved and certified by ASME as the "METU Northern Cyprus Campus Student Branch of ASME" at the beginning of 2016. The Society, which was then officially registered as an ASME member, aims to equip its student members with the cutting-edge knowledge and skills in mechanical engineering field and encourages them to attend and participate in various contests and competitions held on and off campus each year.
Interview with the head of the Mechanical Society – Usman Arshad Shah: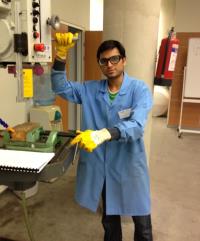 Apart from mechanical engineering students, who else contributed to the projects mentioned above?
Our society promotes diversity and hence welcomes students from all disciplines to join and benefit from its activities. To have a much more creative environment and to encourage diversity in the society, we, as the ASME METU NCC Student Branch, ensure that our members are from different departments. The ongoing Drift Trike project demands expertise in courses associated with mechanical engineering. For that reason, the team only consists of mechanical engineering students. Still there are many interested students from other departments who voluntarily help or come to watch the ongoing project.
Could you briefly inform us about the project Drift Trike?
The project Drift Trike officially started in February 2016. The aim of this project was to allow engineering students to use their theoretical knowledge and apply it to the practical side of engineering life. Our objective was to build a working Drift Trike with minimum cost and maximum possible use of scrap material. A period of over two months, countless brainstorming sessions and hard work in the machine shop not only paid off in the completion of our objective but also resulted in enhancing our practical skills.
What are the benefits of ASME membership?
ASME is a worldwide organization with over 130,000 members, including over 32,000 student members in 152 countries. As an ASME student member, one gains skills and practical experience outside the classroom, by connecting with professional engineers in their area of interest, getting access to hundreds of key resources and by attending technical events and projects. Once registered with us, a student has an international recognition on ASME's platform. The local (on-campus) benefits of our society include several technical workshops, project opportunities, technical and fun events and seminars on up to date topics in the field of engineering.
What kind of projects is the Society particularly interested in?
The society aims to focus on projects that encourage students to learn about their specific fields, both theoretically and practically. We want our members to make their study fun by experiencing such real life projects, learn to be a leader and a follower in a team, and develop professional skills. In the near future, we also hope to join technical events such as the Shell Marathon and Tubitak Electric Car Competition.
Do you have any projects that you put into practice?
The project Drift Trike is almost ready and the demonstration will be held in the mid-June 2016. It will not only serve as an entertainment but also be a source of encouragement for the upcoming mechanical engineering students to focus on the practical aspect of their field. The "Water Rocket" competition held in May 2016 was another successful short project event. Students from different engineering departments, designed, prepared and launched water rockets. A short video was produced and released on our Facebook page.
https://www.facebook.com/ASME.METU.NCC/?fref=ts
President: Usman Arshad Shah
E-Mail: e195120

metu.edu.tr