Image: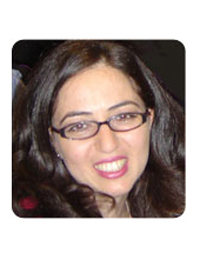 E-mail:
yyeliz

metu.edu.tr
Educational Background:
B.S., Eastern Mediterranean University; M.S., Ph.D., University of Manchester
Research Interests:
Human Centred Web
Web accessibility
Mobile Web
Semantic Web
Human Computer Interaction
Courses Taught:
CNG140 - C Programming
CNG213 - Data Structures
CNG301 - Algorithms and Data Structures
CNG351 - Data Management and File Structures
CNG352 - Database Management System
CNG443 - Introduction to Object-Oriented Programming Languages and Systems
CNG462 - Artificial Intelligence
Selected Publications:
Simon Harper, Yeliz Yesilada. Web Accessibility: A Foundation for Research. HumanComputer Interaction Series, No 1, Springer, London, September 2008.
Sean Bechhofer, Yeliz Yesilada, Robert Stevens, Simon Jupp. Using Ontologies and Vocabularies for Dynamic Linking. IEEE Internet Computing, 12(3):3239, 2008.
Yeliz Yesilada, Robert Stevens, Simon Harper, Carole Goble. Evaluating DANTE: Semantic Transcoding for Visually Disabled Users. ACM Trans. Comput.Hum. Interact, 14(3):00, 2007.
Simon Harper, Yeliz Yesilada, Carole Goble. Building the Mobile Web: rediscovering accessibility?. Universal Access in the Information Society, 6(3):219220, 2007.
Simon Harper, Yeliz Yesilada. Web Authoring for Accessibility (WAfA). Web Semantics: Science, Services and Agents on the World Wide Web, 5(3):175179, 2007.
Yeliz Yesilada, Sean Bechhofer, Bernard Horan. Dynamic Linking of Web Resources Customisation and Personalisation. In Advances in Semantic Media Adaptation and Personalization, Springer Series on Studies in Computational Intelligence, Vol. 93/2008, pp. 124, Springer, 2008.
Editorial Board Membership:
Co-editor of New Review of Hypermedia and Multimedia (NRHM) by Taylor and Francis.
Editorial Board Member of the ACM's Transactions on Accessible Computing (TACCESS).