Image: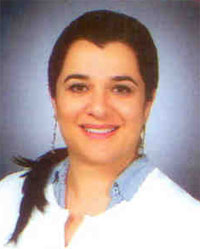 Program:
Teaching English as a Foreign Language
Educational Background:
B.A., Hacettepe University; M.A., Bilkent University; Ph.D., Indiana University of Pennsylvania
Research Interests:
Discourse Analysis
Literacy Practices in EFL
EFL/ESL Methodology
Second Language Writing
Corpus Linguistics
Courses Taught:
EFL 123
EFL 124
EFL 128
EFL 245
EFL 247
EFL 317 ELT Methodology 2
Selected Publications:
Book Chapter Publication (International) Özbilgin, A. and D. J. Tannacito. 2010. The Parameter of Particularity: A Critical Analysis of a Supervisory Observation of an EFL Teacher's Classroom in Turkey. In Gloria Park, Handoyo Puji Widodo and Andrzej Cirocki (Eds.), Observation of Teaching: Bridging Theory and Practice through Research on Teaching (157-174). Munich: Lincom Europa.
Conference Publication (National) Özbilgin, A. 2010. Discourses shape foreign language learning and teaching: The story of a language institution. Procedia - Social and Behavioral Sciences, 2(2), 4305-4309. Amsterdam: Elsevier.
Book Chapter (International) Özbilgin, A. 2010. Discourse and Literacy Practices at a Bilingual University in Turkey. Critical Inquiry in Language Studies. Philadelphia: Routledge.
Book Chapter Publication (International) Özbilgin, A. and Steve Neufeld. 2013. iCorpus: Making corpora meaningful for pre-service teacher education. In Julian Edge & Steve Mann (Eds.), Innovations in pre-service education and training for English Language Teachers (181-200). London: The British Council.
Journal Publication (National) Özbilgin, A., Erkmen, B. & Karaman, A. C. (2016). English language teacher professional development: When institutional frameworks fall short, The Inonu University Journal of the Faculty of Education, 17(1), 55-65. DOI: 10.17679/iuefd.17152899
Journal Publication (International) Akcan, S., Aydin, B., Karaman, A. C., Seferoğlu, G., Korkmazgil, S., Özbilgin, A., & Selvi, A. F. (2017). Qualities and qualifications of EFL professionals: What do Intensive English Program administrators think? TESOL Journal, 8(3), 675-699.