Image: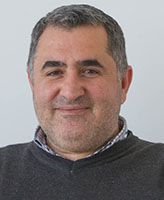 E-mail:
egurel

metu.edu.tr
Educational Background:
B.S., B.Eng., METU; Ph.D., Michigan State University
Research Interests:
Arithmetic Geometry, Algebraic Geometry and Number Theory
Courses Taught:
MAT 100
MAT 119
MAT 120
MAT 219
MATH 526 (in Ankara Campus)
Selected Publications:
(w/O. Kisisel) A note on the products (1k+1)(2k+1)...(nk+1). J Number Theory 130 (2010), no 1, 187-191.
Galois structure of modular forms of even weight. J Number Theory 129 (2009), no 10, 2274-2288.