Image: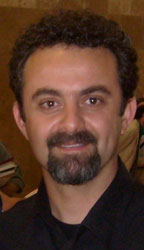 E-mail:
bertug

metu.edu.tr
Educational Background:
B.S., M.S., Eastern Mediterranean University; Ph.D.,University of Manitoba, Canada.
Research Interests:
Stochastic Modeling in Hydrology
Drought Analysis
Parameter Uncertainty (Bayesian Inference)
Flood Modeling and Analysis
Courses Taught:
CVE 376 Hydrology
CVE 372 Hydromechanics
CVE 472 Statistical Techniques in Hydrology
CVE 471 Water Resources Engineering
CVE 424 Urban Hydrology and Hydraulics
SEES 503 Sustainable Water Resources
Selected Publications:
Seyhun R. and B. Akintug, Trend Analysis of North Cyprus Rainfall, Global Conference on Global Warming 2012, İstanbul, Turkey, 8-12 July 2012.
Akintug B. and P. Rasmussen, Incorporating Parameter and Data Uncertainty into the Analysis of Energy Drought. Proceedings of EWRI-ASCE Word Water and Environmental Resources Congress, Honolulu, Hawaii, USA, 12-16 May 2008.
Akintug B. and O. Baykan, Modeling Annual Hydrologic Time Series using Hidden Markov Model, 5th National Hydrology Congress, Middle East Technical University, Ankara, Turkey, 5-7 September 2007 (in Turkish).
Baykan O. and B. Akintug, Dam Tourism, Ege University, Cesme National Tourism Symposium, Cesme, Turkey, 21-23 November 2007 (in Turkish).
Akintug B. and P. Rasmussen, A Markov-Switching Model for Annual Hydrologic Time Series, Water Resources Research Vol. 41, No. 9, W09424, 2005.
Akintug B. and P. Rasmussen, Simulation of Monthly Flows Using Markov-Switching Model, American Geophysical Union (AGU) Meeting, The 2005 Joint Assembly, New Orleans, Louisiana, USA, 23-27 May 2005.