Image: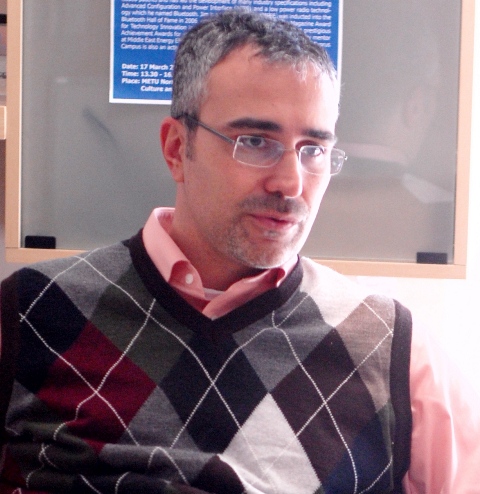 Program:
Electrical and Electronics Engineering
Educational Background:
B.S., University of Rochester; M.S.,Cornell University; Ph.D.,Oregon State University
Research Interests:
Low Power Integrated Circuits (VLSI)
Energy Efficient Computing
System Integration of Renewable Energy Sourcee
Courses Taught:
Logic Design
Electronics II - Digital Electronics
Introduction to VLSI Design
Computer Architecture I - II
Engineering Design I and II"
Selected Publications:
R. Denker, A. Muhtaroglu, "Feasibility Analysis and Proof of Concept for Thermoelectric Energy Harvesting in Mobile Computers," Journal of Renewable and Sustainable Energy, Vol. 5, No. 2, doi: 10.1063/1.4794751, March 2013.
A. Rahimi, O. Zorlu, A. Muhtaroglu, and H. Kulah, "An Electromagnetic Energy Harvesting System for Low Frequency Applications with a Passive Interface ASIC in Standard CMOS," Sensors & Actuators A, Vol. 188, pp. 158-166, December 2012.
A. Muhtaroglu, "Power Management and Energy Scavenging" in N. Kaabouch, & W. C. Hu (Eds.), "Energy-Aware Systems and Networking for Sustainable Initiatives" (book chapter), pp. 310-340, IGI Global, June 2012.
A. Rahimi, O. Zorlu, A. Muhtaroglu, and H. Kulah, "A Fully Self-Powered Electromagnetic Energy Harvesting System with Highly Efficient Dual Rail Output," IEEE Sensors Journal, Vol. 12, No. 6, pp. 2287-2298, June 2012.
A. Muhtaroglu, "Sustainable Power Management of Microelectronic Systems – Computing in a Greener World" (book), VDM, July 2008.
A. Muhtaroglu, A. Yokochi, A. von Jouanne, "A Sustainable Power Architecture for Mobile Computing Systems", Journal of Power Sources, Vol. 178, No. 1, pp. 467-475, March 2008.